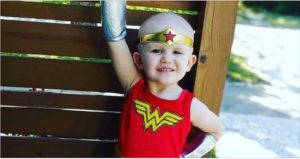 The Max Challenge of Basking Ridge invites you to join us for a fun family friendly fitness class on 12/8 at 9am as a fundraiser for Trinity D'Autorio, a spunky 3 year old, who was diagnosed this August with a Neuroblastoma.
While they now live in Florida, both her parents, Lou and Skyla (Zimmerman) grew up in Basking Ridge and were members of the Liberty Corner FD. Lou was also an EMT and on the Basking Ridge FD.
4 Max instructors have volunteered to lead the class which is geared towards all ages and all fitness levels.
We are asking a suggested donation of $10 (cash or check) and The Team Campbell Foundation (TCF) has agreed to match all donations. Checks can be made out to TCF.
If you can't attend but would like to donate, please use this link and add a note in the Memo that it is for the Max Trinity fundraiser.
http://www.teamcampbellfoundation.org/donate/
Thank you in advance for your support!