You have probably heard that in the next 12-18 months economists predict that America is likely to slip into another recession. What impact might that have on the housing market?
Consider these results from a recent Realtor.com survey:
53% of customers currently in the market believe a recession will occur this year or next.
57% believe the next recession will be as bad or worse than 2008.
55% said they would cancel plans to move if a recession occurred.
This is just one example of how the media is making it difficult to understand what really might happen should a recession hit. Have you ever heard the phrase, "history repeats itself"? Consider this fact:
In three of the last five recessions, housing prices actually appreciated. Yes, it's true prices went up during the recession in 1980, in 1981 and in 2001. In 1991, housing prices went down but only just under 2% and yes, in 2008 we were hit pretty hard with depreciation at almost 20%.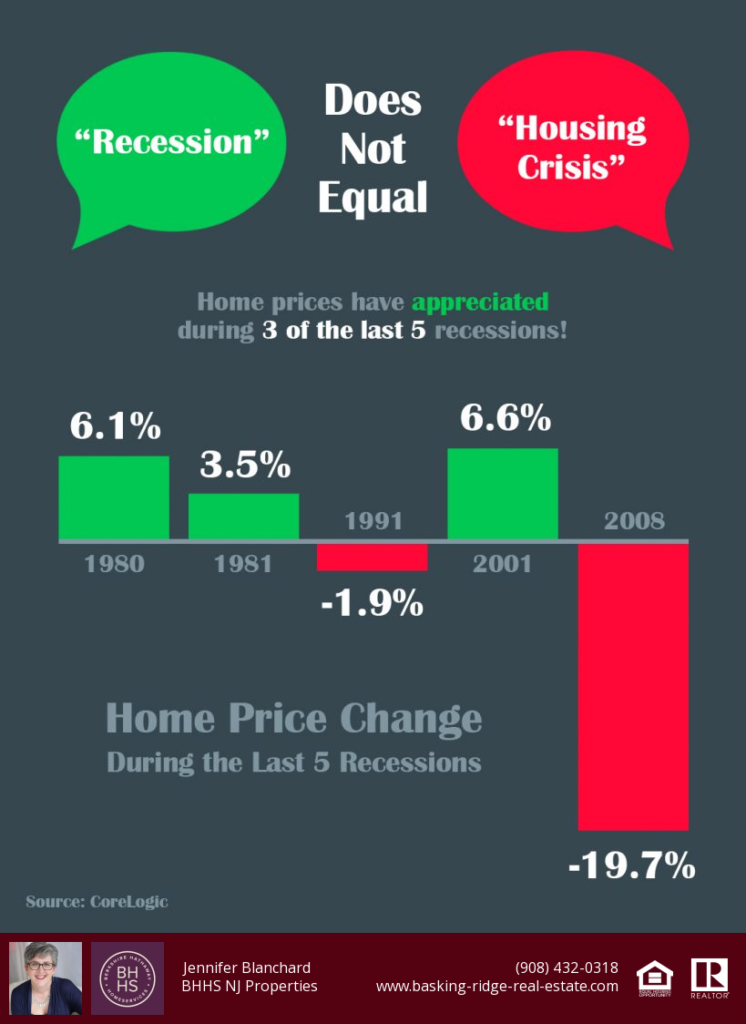 Now, if you look only at 2008, and you are also paying attention to all of the gloom and doom predictions, I could see why you might be concerned…..
But think about what else was going on in the years leading up to 2008 – it was SO easy, TOO easy, to get a mortgage. Loose lending practices were a huge part of why the last recession hit the housing market so hard. But today, there are stricter regulations in place under the Dodd-Frank Act to make sure this doesn't happen again.
Greg McBride, chief financial analyst at BankRate, notes that buying a home during a recession depends on how much risk you're willing to take:
"It takes nerves of steel to sign up for the largest financial commitment you've ever had at a time when the economic outlook is bleak, unemployment is rising, and fear and pessimism are rampant," says McBride.
And it's true, those who work in industries that are most vulnerable to economic downturn should certainly think twice before buying a home during a recession. Getting laid off and being unable to afford a monthly mortgage jeopardizes your financial future – but that is a true statement whether we are looking at a recession or not.
The bottom line is if you have the patience, savings and overall financial health to weather weak economic times, don't let the next recession (or fear of one) come between you and your housing needs.