Goodwill goes a long way! There is a Basking Ridge food drive happening right now: Feb 21 through March 23; you have an entire month to donate.
Helping is so easy! Visit our online food drive to purchase the goods you would like to donate. You will be emailed a tax receipt at the time of purchase. Online pricing includes shipping & handling. All goods ordered online will be shipped directly to our charity partner, God's Co-op Pantry.
The Pantry's mission is to feed our hungry neighbors in Bernardsville, Basking Ridge, and Peapack-Gladstone. The pantry primarily serves veterans living on the grounds of the VA Hospital, local senior citizens, our under-served Hispanic neighbors as well as local residents living below the poverty level (approximately 1500 residents).
Together we can build a stronger community and it starts with your donation to the Basking Ridge food drive!!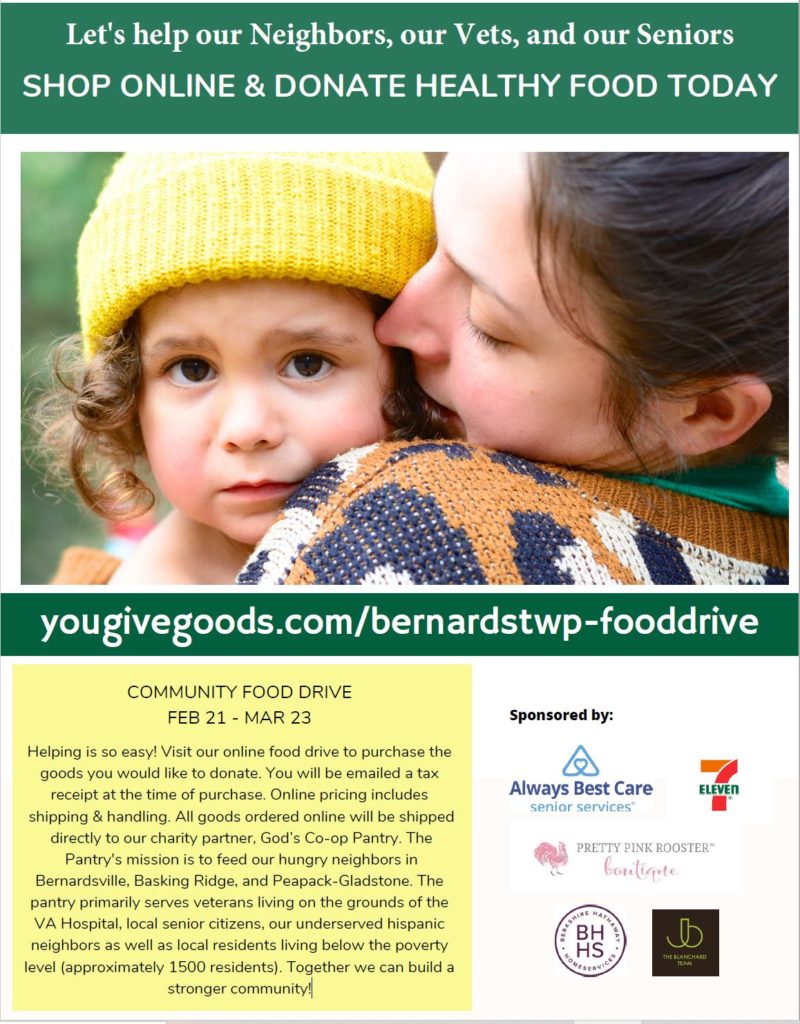 In the past I have shared with you some of the organizations that our team supports on a regular basis. The following companies are sponsoring this food drive: Always Best Care senior services, Seven-Eleven, the Pretty Pink Rooster boutique and The Blanchard Team. Please consider joining us for this good cause.
Always Best Care senior services: Since 1996, Always Best Care has helped thousands of families with non-medical in-home care and assisted living referral services. In select markets we've also added skilled home care for clients that suffer from illness or injury. Our passion for helping people maintain a safe, independent and dignified lifestyle represents the strong foundation of Always Best Care. Every client receives extraordinary care in an inspiring environment with caring and compassionate people. Our Care Coordinators have worked with thousands of seniors across the country, and we're always ready to help you!
The Pretty Pink Rooster boutique:
Creating The Pretty Pink Rooster® Boutique was a dream owner Alexandra Daras shared with her father. Together, they had plans of building a business…a boutique designed for women who wanted to follow the latest jewelry trends without the hefty price tag.
Those dreams were cut short when Alexandra's dad suddenly passed away. And at just 25 years old, those plans with her father were put on hold. It took five years of pain, tears, and sadness, Alexandra launched The Pretty Pink Rooster Boutique as an online only retailer. After the success of the online site, PPR launched the Bernardsville, NJ location on September 26, 2016 (ribbon cutting pictured below) the dream she shared with her dad finally became a reality.
The Pretty Pink Rooster Boutique – offers clothing, accessories and gifts for "whatever your day brings" – a motto she developed after realizing that clients come to her for help solving problems. From last minute gifts to how to accessorize for any occasion, the team at PPR makes your shopping experience fun, easy and affordable.