The sales price has the biggest influence on closing costs, but other factors come into play as well, including geographic location, loan type and amount, down payment amount, and whether the buyer pays any points to buy down the interest rate. A common estimate of a buyer's closing costs is usually about 2% to 5% of the home's purchase price. Typical closing costs (these are averages and in some cases vary greatly by area and property value) include:
Loan origination fee (1% to 2%)
Discount points (0% to 3%)
Credit report and loan application fee ($25 to $400)
Mortgage insurance ($0 to $2,500)
Initial interest ($0 to $1,000)
Title services and lender's title insurance ($0 to $5,000)
Title insurance (lender's policy and OER) ($450 to $1,200)
Properly taxes (current year proration) ($0 to $7,500)
Appraisal ($150 to $450)
Survey ($150 to $400)
Closing fee ($125 to $350)
Homeowner's insurance (varies depending on coverage selected)
Deed recording fees (costs vary depending on location)
Buyer's attorney (0.75% to 1.5%)
Reserves (two months for homeowner's insurance, taxes, and mortgage insurance)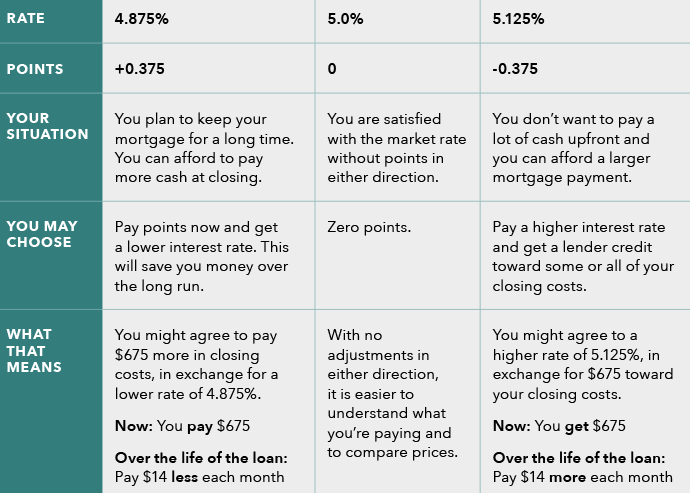 Closing Costs Explained
There are costs associated with purchasing a home. Check out a sample Closing Disclosure, which outlines terms and costs of your transaction. Here's a review of many of the common fees.
Origination: The fee the lender and any mortgage broker charges the borrower for making the mortgage loan. Origination services include taking and processing your loan application, underwriting and funding the loan, and other administrative services.
Points: Points are a percentage of a loan amount. For example, when a loan officer talks about one point on a $100,000 loan, this is 1 percent of the loan, which equals $1,000. Lenders offer different interest rates on loans with different points. You can make three main choices about points. You can decide you don't want to pay or receive points at all. This is a zero-point loan. You can pay points at closing to receive a lower interest rate. Alternatively, you can choose to have points paid to you (also called lender credits) and use them to cover some of your closing costs.
Underwriting: Paid to the lender, this fee covers the cost of researching whether or not to approve you for the loan.
Appraisal: This charge pays for an appraisal report made by an appraiser.
Credit report: This fee covers the cost of a credit report, which shows your credit history. The lender uses the information in a credit report to help decide whether or not to approve your loan and how much money to lend you.
Learn more about closing costs here.
Jennifer Blanchard Team
Berkshire Hathaway HomeServices NJ Properties
(908) 432-0318 | jennifer@jenniferblanchard.com